Vikas Jain (Author, Keynote & Motivational Speaker, Founder of Adhyan World), going to deliver the session on "Personal Branding through Social Media" during one day workshop on "Personal Branding" organized by ProTouch.
---
"Personal brand is what people say about you when you are not in the room." –  Jeff Bezos
If you don't brand yourself, somebody else will
Brand yourself for the career you want and goals you've set for yourself !
Join us for a step by step guide to personal branding @ protouch with subject matter experts from respective fields with Teenu Bawa and Vikas Jain
During registration on-phone/in-person, use the "AdhyanWorld" discount code to get an additional discount of Rs. 500.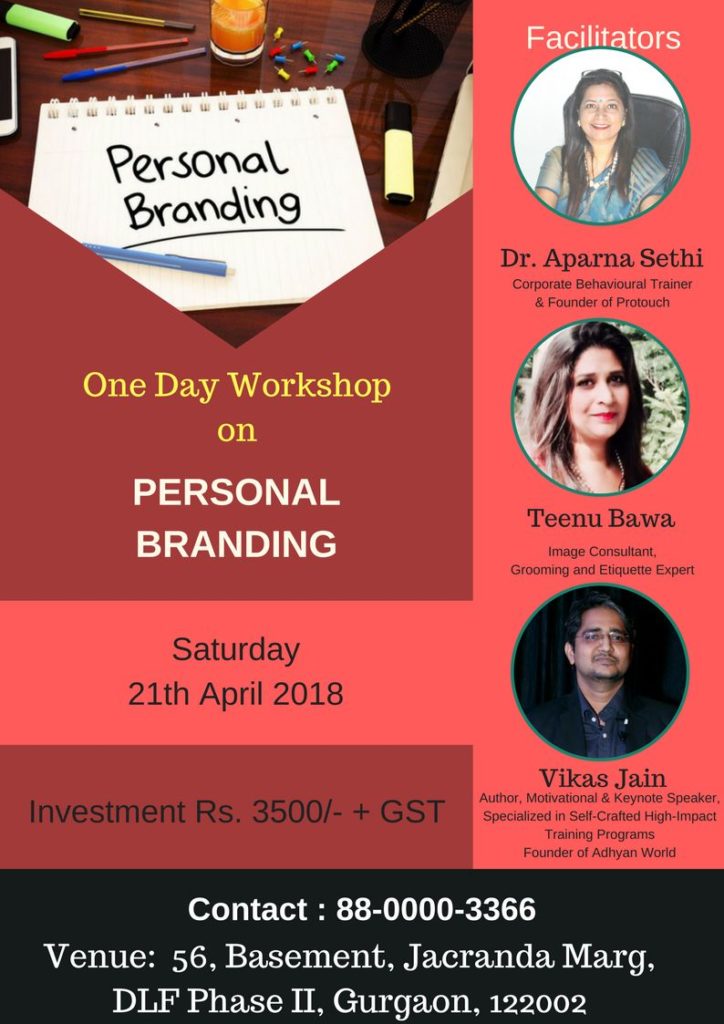 About Vikas Jain
Vikas Jain is an Author, Global Professional Speaker. He is also the founder of Adhyan World and MotivationalGyan.com. He is one of the top Keynote & Motivational Speakers in India. He has delivered programs for various corporations including Fortune 500 companies like Yamaha, Intel etc. He has delivered customized programs on topics such as Leadership, Team Building, Transformation, Sales Motivation, Entrepreneurship, Youth Motivation, Faculty Development Programs in India and abroad.
Some of the Motivational & Inspirational Talks delivered recently by Vikas
Motivational Speaker for Yamaha Annual Dealer Conference in Kathmandu, Nepal
Self-Learning Leadership program at Delhi Management Association, India
Inspiring Speech on "Transformation" delivered during Microsoft Sales meet
Motivational Sales trainer for Annual Sales Meet in Goa, India
Keynote Speaker for 1000+ school principals in Kochi, India
Corporate Speaker for Leadership Team Annual meeting
Motivating Youth about Career, Growth, Entrepreneurship & Self-Learning