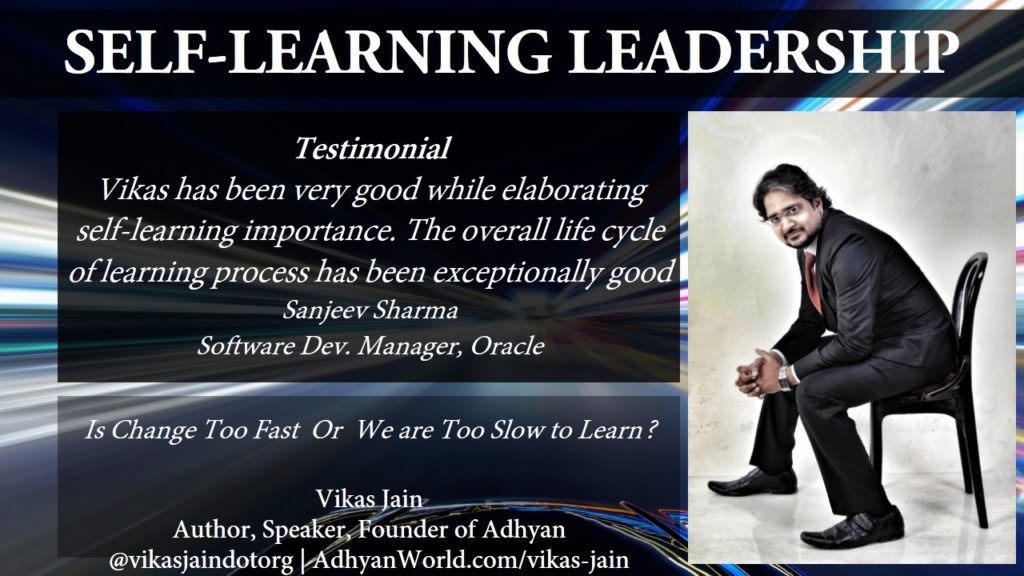 Self-Learning Leadership
"Is Change Too Fast or Are we Too Slow to Learn?
With Self-Learning mindset we don't just manage change better but we come change maker"
 – Vikas Jain
World is going through major changes and it is disrupting everything including businesses. During this period of disruption there are victims of change (disrupted) and winners because of change (disruptors). This exclusive program covers one of the most essential quality of disruptors which is their Self-Learning Capabilities & Learning Agility.
Disruptor are very good at foreseeing the change and act accordingly. Ability to "Foresee and Act" can only be gained through intense learning and knowledge about respective domain. Also irrespective of the speed of change, two worlds coexist, a world of opportunity and a world of scarcity. A self-learning mindset is the key to access this world of opportunity.
Self-Learning Leadership has potential to transform their organizations by building self-learning ecosystem in the organization. With fast changing skillset, these organizations will have better agility to learn new skills in relatively less time and lesser cost. Self-Learning Entrepreneurship, empowers Entrepreneurs as they need to learn lot of new business skills in relatively short period of interval. At individual and community level, self-learning ecosystem has potential to transform the Education worldwide, which directly translates to employment opportunities. This would not just cater un-employment but will manage under-employment too. And with better Education and Employment in place, our world can be more peaceful and better place to live.
Keeping this in view DMA has taken an initiative to organize a Seminar on "Self-Learning Leadership" by Mr. Vikas Jain, Founder, Adhyan on 
Date: 20th December 2017 (Wednesday)
Time: 4:30 p.m. to 6.30 p.m. followed by high tea
Place: DMA Conference Hall, India Habitat Centre Core-6A, 1st Floor, Lodi Road, New Delhi, Delhi 110003
Charges: FREE ( with prior registration)
Self-Learning Leadership program is specially designed for people who like to LEAD the change by becoming the Disruptor. This would be highly relevant for Leadership positions in organizations, Entrepreneurs leading their organizations and academician who are nurturing the seed of future leadership. The expected outcomes from the seminar are :
Understanding and Inculcating Self-Learning Mindset as Leader & Entrepreneur
Understanding the self-learning habits of world leaders who have disrupted the ecosystem
Building Self-Learning Ecosystem in and around us to capitalize the opportunities
Registration Form (Fill in form Below or Click here)

About Speaker – Vikas Jain
After working for almost eight years with Corporate giants like IBM and McAfee, Vikas understood that 'Secret of Success' is altogether different when it comes to real life and is not even one percent of what most of us perceive. He decided to share this 'Secret of Success' with others and to make them realize their own worth. His dedication towards it was so intense that he even denied the offer from Microsoft and founded Adhyan in 2014 to fulfill the passion and purpose of "Building Self-Learning Ecosystem" to transform organizations, individuals and community at large.
His flagship programs include Self-Learning Leadership, Self-Learning Entrepreneurship, Adhyan Eklavya Vikas and more. He has delivered program for various corporations including fortune 500 companies.
Due to his special interest for development Sector, Vikas has delivered Life Skills training to United Nations Refugees under UNHCR with a focus on helping different sections of the society and has mentored Faculty Development Program to Assistant/Associate Professors of University of Delhi and others organizations to empower educational institutions.
He wrote books like 'Secret behind Super-Achievers: Self-Education' and 'Top 10 Mistakes While Making Career Choices. In his book "The Secret Behind Super-Achievers: Self-Education", he shared a vision of world with Self-Learning Ecosystem in-place. He also cover insights gained during interviews of global leaders. Some of the global leaders whose insights were captured during Vikas' one-on-one interactions are Alan Mamedi (Founder of TrueCaller), Brian Tracy (International Management Guru), Suman Saraf (CTO and Co-founder, Bluestacks), Fredrik Haren (Global Speaker) and more.
His strategic & inspirational talks, positive attitude, knowledge, experiences and charismatic persona is what makes him stand out of the crowd and leads to desired transformation in people on personal and professional front. He is also associated with various professional bodies including Asia Professional Speaker Singapore, AIMA, DMA, ISTD, TIE and more.